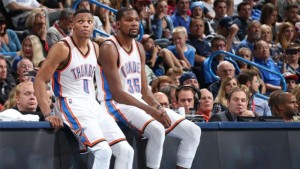 LOS ANGELES — In a game that had a flurry of wild see-sawing plays, from Russell Westbrook's huge 3-pointer with 48 seconds left, to Blake Griffin's go-ahead dunk with 37 seconds left, to Westbrook's pull-up jumper with 29 seconds left, to Chris Paul's circus layup after a botched out of bounds play, it came down to two moments.
Kevin Durant made a shot, then Kevin Durant made a block.
The shot was with 5.8 seconds remaining, temporarily rescuing the Oklahoma City Thunder after a pass from Dion Waiters sailed through Westbrook's hands giving Paul the go-ahead layup.
And the block was at the buzzer, as Durant peeled off his man to challenge Paul on a leaning potential game-winning jumper, allowing the Thunder to hold on against the Los Angeles Clippers, 100-99.
Durant has hit plenty of game-winners, so for a player who doesn't carry an affirmed defensive rep, will he remember the block more? He didn't have to think hard about his answer.
"Nah," he said. "I'm not saying it was a bad block, but as a kid I dreamed about hitting the game-winner. No doubt the block was great for our team, but as a kid you want to hit the game-winner. So I'll take the game-winner over the block."
For the Thunder, as they chase the Golden State Warriors and San Antonio Spurs in the Western Conference, desperately trying to regain their status as an elite contender, the recent hang-up has been the inability to produce those kinds of plays. The Thunder have lost just three times in the past three weeks — on the road in Atlanta, on the road in Miami and on the road in Cleveland. And all three games carried a similar theme: in the clutch-time moments, the Thunder didn't grab a rebound, didn't hit a free throw, didn't get a loose ball. The result: three losses by a combined 10 points.
And against the Clippers on Monday, it appeared the finer details were going to bite them again. Durant missed a gliding layup with 2:31 remaining that would've put the Thunder ahead. Then Serge Ibaka missed the putback dunk attempt following it. Durant missed an open 3 on a beautifully run "elevator" set on the next possession. Then Westbrook missed a layup one set after that. The face-palming turnover that gave Paul a layup was just the cherry on top in the Thunder's attempt to write a new chapter in "1,000 Ways To Lose A Close Basketball Game."
But give Durant a stage, no matter the kind of game he's having, and he's a candidate to produce a moment, or in this case, two of them. First, it was the shot.
"To be honest, man, it's the most care-free I feel the whole game," he said. "I try not to think about it. When I get the ball, just be me. If I miss it, just store it in the memory bank and try and be better next time. If I make it, move on. I just try to be completely care-free and let it fly."
Then it was the block.
"[Paul] had no other choice but to shoot it, and I knew he was going to shoot it," Durant said, "so I wasn't going to just sit there and let him. He makes big-time shots. There was a second on the clock and he had no other options and he's 6-feet, and I'm 6-11."
Those types of plays, those critical make-or-break crunch-time moments, are what have been missing for the Thunder, what has been preventing them from taking the step ahead into the class they feel they belong. Even Monday, they didn't play all that attractively, with Durant struggling with his jumper, Westbrook doing the same at times, and the second unit failing to produce once again. But this time, they found a way to the finish line.
"It was good to see our guys not have some of those shots go in," Donovan said, "and not affect what we needed to control defensively on our end of the floor. And kind of stick with that. I was proud of those guys they were able to do that."
The Thunder believe the page is turning finally, and maybe Monday's win points them further in the right direction. They're trying new things, trying to diversify, trying to deepen themselves with spacing and movement and passing, features they've lacked on a consistent basis the past few seasons. But they also have a significant gap to close from where they are, and where they need to be. It's one thing to play beautifully, but nothing is prettier than winning.