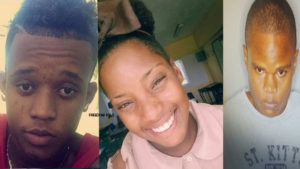 The Director of Public Prosecutions has filed the application to seek the death penalty for convicted murderers Brandon Lee Wells and Travien Liddie.
They were convicted for the killing of Well's 17-year-old sister, high school student Leanna Napoleon in May 2017.
According to DPP Valston Graham's application, the Crown considers the matter an appropriate one for the imposition of the death penalty as the offence quote "falls into the category of the worse of the worse cases and there is little prospect of rehabilitation".
On October 11, a jury had returned unanimous guilty verdicts for the offences of Murder and Attempting to Pervert the Natural Course of Justice for 21-year-old Wells. They returned a unanimous guilty verdict for 20-year-old Liddie for the offence of Attempting to Pervert the Natural Course of Justice and an 11-1 guilty verdict for the offence of Murder.
The jury heard witness statements and caution statements from the Wells and Liddie how Wells' then 19, had spoken of getting rid of his sister months prior to the murder, over contention for the house he lived in which had belonged to the siblings' mother.
They heard how Leanna had been lured to the home and that Liddie restrained her while her brother repeatedly struck her in the head with a hammer until she died.
Leanna's body was put in a large garbage bag then wrapped with a sheet and then Wells, Liddie and Ivan "Chineyman" Phillip disposed of her body up a hill in Olivees. The person who drove the vehicle told police what had happened and led them to where the body was buried. He was never charged with a crime and subsequently left the federation; Phillip saw his murder charge withdrawn and in June 2019 pleaded guilty to accessory after the fact for his role in disposing of the body.
The DPP said there were several factors the Crown intends to rely on in support of seeking the capital punishment; these include the nature and manner of execution of the offense, that the offence was premeditated, this was a case of exceptional depravity, the absence of remorse, the murder was done for profit, the fact that there is little prospect of rehabilitation and that the justice of the case requires it.
Wells and Liddie are scheduled for sentencing in November.