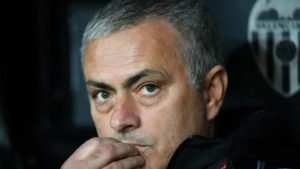 The stunning decision comes just two days after United suffered an embarrassing 3-1 defeat by rivals Liverpool, which saw them concede a worst-ever 36 shots and slip 19 points behind the Premier League leaders.
The 55-year-old Portuguese has been under mounting pressure with United languishing in sixth position in the Premier League table, and despite his agent, Jorge Mendes, releasing a statement on 7 December to insist the club were happy with his management.
That has proven to be wrong, with United issuing a brief statement on Tuesday morning to confirm that Mourinho has left the club with immediate effect ahead of their next fixture against Cardiff City this Saturday evening.
A club statement released on Tuesday morning read: "Manchester United announces that manager Jose Mourinho has left the club with immediate effect.
"The club would like to thank Jose for his work during his time at Manchester United and to wish him success in the future."
United have not announced who will takeover from Mourinho despite former midfielder Michael Carrick being viewed as an ideal candidate to replace him on a short-term basis, with the club assessing their options over who can see them through to the end of the season.
However, a permanent appointment will be made at a later date for a new manager to take charge next season.
"A new caretaker manager will be appointed until the end of the current season, while the club conducts a thorough recruitment process for a new, full-time manager."
It ends Mourinho's two-and-a-half year reign at Old Trafford in which he won the Europa League and League Cup, and comes three years and a day after he was sacked by Chelsea for the second time in 2015.
The Independent understands that United are considering an approach for former defender Laurent Blanc, who played for the club for the final two years of his playing career between 2001 and 2003.
The club are keen that whoever the short-term appointment ends up being, they must have a detailed understanding of the club in order to restore what it stood for after the disappointing reigns of Mourinho, Louis van Gaal and David Moyes.
That also opens the door for former Portugal manager Carlos Queiroz, who served as Alex Ferguson's assistant in two spells from 2002 to 2003 and again in 2004 to 2008.