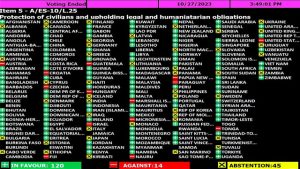 The Jamaica government says the situation in the Middle East "demands a unified global voice against human rights violations" as it sought to explain the "concerns raised by those who feel that Jamaica not having voted in the 10th UN Emergency Special Session last Friday, suggests a shift in our stance on international human rights".
Foreign Affairs and Foreign Trade Minister Kamina Johnson Smith in a statement late Sunday night, said she wanted to reassure Jamaicans "that this is not the case".
Jamaica did not vote as the United Nations General Assembly (UNGA) last Friday approved a nonbinding resolution calling for a "humanitarian truce" in Gaza leading to a cessation of hostilities between Israel and Gaza's Hamas rulers.
Twelve Caribbean Community (CARICOM) countries voted in favour of the resolution. The 193-member world body adopted the resolution by a vote of 120-14 with 45 abstentions after rejecting a Canadian amendment backed by the United States.
"The situation in the Middle East demands a unified global voice against human rights violations, while respecting states' rights to self-defence within the parameters of international law. Jamaica, as the Chair of the CARICOM Caucus of Ambassadors at the UN, was actively engaged in discussions concerning the Jordanian resolution and not only collaborated on the CARICOM Statement, but led its drafting," Johnson Smith said in the statement.
Johnson Smith said that the statement was delivered by the country's Permanent Representative, Ambassador Brian Wallace, from the podium in the General Assembly during the debate on the issue, prior to the vote.
"I shared this statement on social media, hoping it would provide clarity on Jamaica's position, given its clear alignment, and support of the Jordanian resolution," the Foreign Affairs Minister said.
She said while a technical cross in communication led to Jamaica's representative not voting, "our statement on the UN General Assembly floor on behalf of all CARICOM member states, unequivocally supports a peaceful resolution of the conflict, humanitarian aid for victims of war, and the release of hostages.
"Jamaica's foreign policy unquestionably rests on robust principles and democratic values, which guide our stance in an increasingly dynamic and complex global landscape," she added.
In a statement on October 7, Prime Minister Andrew Holness said Jamaica "condemns in strongest terms", the Hamas attack; that there was no place for "violence and terror" and for diplomatic solutions to be pursued.