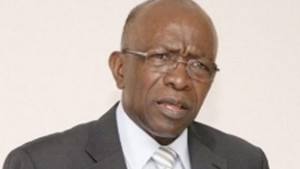 PORT OF SPAIN, Trinidad, Sunday January 24, 2016 – Former FIFA Vice President Jack has won the first round in his battle against extradition to the United States to face corruption charges related to his time as a top executive of football's world governing body.
A High Court in Trinidad has granted him permission to challenge the legality of the extradition proceedings, which means that the process in the magistrate's court has been put on hold.
Justice James Aboud on Friday granted Warner the leave, based on two of the three grounds argued by his attorneys: that some of the provisions in Trinidad and Tobago's Extradition Act did not conform with the Extradition Treaty between the twin-island republic and the US, and that he was denied the opportunity to have his attorneys make representation to the Attorney General on the matter.
The judge struck out the third argument that there was apparent bias, as the Attorney General had received legal advice from lawyers representing the US, before signing the Authority to Proceed (ATP), the document required to begin the extradition process. According to Justice Aboud, Warner's attorneys had provided no evidence that had occurred.
Warner's legal team, led by Senior Counsel Fyard Hosein, has 14 days – until February 5 – to file their claim. The State will then also have 14 days to respond.
The case has been adjourned until February 26.
Warner is accused of 29 counts of racketeering, wire fraud, money laundering, and bribery. He was among nine FIFA officials and five corporate executives indicted last May for their roles in a long-running scheme to corrupt the sport, which included bribes and kickbacks totaling more than US$150 million that were paid or agreed to be paid to obtain media and marketing rights to international soccer tournaments.
It is alleged that Warner began to leverage his influence and exploit his official positions for personal gain from the early 1990s; accepted a US$10 million bribe from South African officials in return for voting to award them the 2010 World Cup; and bribed officials with envelopes each containing US$40,000 in cash.
An additional 16 high-ranking FIFA officials were charged with racketeering, wire fraud and money laundering conspiracies, among other offences, last month.