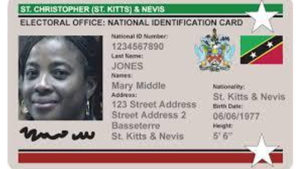 The Electoral Commission and Electoral Office have confirmed that the printing and issuance of National Identification cards or voter ids has resumed effective Monday, July 15.
According to a press release emanating the Electoral Office, persons who newly enrolled and have been confirmed to the register of voters may collect their cards, along with persons who applied for replacement of expired cards.
The cards have new features including more robust cyber-security aspects.
Cards can be collected at the electoral offices on both St. Kitts and Nevis during the opening hours of 8am-4pm.
The Electoral Office thanked the public for its patience and understanding during the over 6-month interruption of the process due to a breakdown of a machine involved in the printing of the cards.