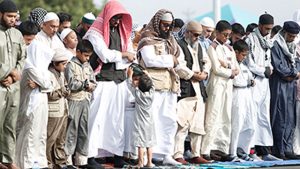 Trinidad – Islam is not about being rebellious and joining radical groups to perform cowardly acts, but of performing Salah (Islamic Prayers) and having respect and dedication for your parents.
This was the strong Eid-ul-Fitr message sent out to the youths of Carapichaima and by extension the nation, by Imam Imtiaz Ahmad Khan of the Carapichaima Masjid un Nur yesterday. Khan urged the youths to refrain from associating themselves with "bad company" and/or joining radical groups that carry out suicide bombings.
"The dean of Islam is certainly not to harm our brothers, women and children. We, Muslims, do not associate with this and we have no right to bring harm to anyone. Even if it is being done to us, it still does not give us any right to harm and kill," Khan said.
"Please, do not join gangs. Wake up and perform Salah and have respect for others. Islam is about having a positive influence in society and integrating good values. Those killing will never earn respect in the end. Respect will be earned to those doing the right things."
The Imam also challenged parents to be role models for their children in showing them the right way and true teachings of Islam. "Set an example for the youths. Muslim women, you have influence over your children, use simple words to maintain and establish Islam in the house," Khan said. He added that when parents do the right things in the home, although at times children may disobey when they get older, they would remember that their fathers used to pray and read the Quran and one day they will wise up and follow after them (the parents).
"We are the backbone in the mosque and in the communities and the positive future of our youths lie in your hands. Have the most influence over them so that they won't fall into the wrong hands that can cause mayhem and confusion.
"My dear brothers and sisters, take your place in society and find yourselves in the masjid and getting active," Khan said. Yesterday, thousands of Muslims celebrated Eid after disciplining themselves to a month of praying and fasting in observance of the month of Ramadan.