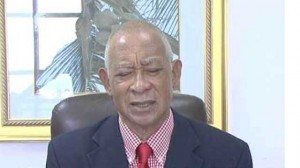 ST JOHN'S, Antigua – Chief of Staff Lionel "Max" Hurst said the government will not be taking on any new hires for 2015, but adds that no workers will be fired either.
Hurst said that was the commitment made at the last meeting of Cabinet for the year, on Monday.
"There is one thing that the government will not do and that is to hire more people. The government payroll is too weighty at the moment – far too weighty. We won't engage in anything like the United Progressive Party, which they called voluntary separation. We have adopted a strategy in which we have said to the people of Antigua & Barbuda, both before and after the election, that we are not going to fire anyone," Hurst said on OBSERVER AM yesterday.
Since the Antigua Barbuda Labour Party (ABLP) came to office in June 2014, it has sent home contracted workers from several institutions to include Central Board of Health and the Public Works ministry.
Individuals who served on boards for a number of statutory corporations reported they too were axed even though they had time on their contracts. Managers from the transport board and the executive director and four managers of the St John's Development Corporation were also removed from their posts.
Former chairman of the board at Mount St John's Medical Centre, Milton Pringle, is one of the few persons who decided to take government to court for removal from the job even though his contract had not expired.