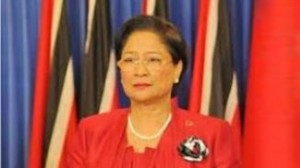 Prime Minister Kamla Persad-Bissessar was at the bedside of hunger striker Dr Wayne Kublalsingh at St Clair Medical Centre in Port of Spain last night. However, she stressed that this does not mean the controversial Debe to Mon Desir section of the multi-billion-dollar extension of the Solomon Hochoy Highway to Point Fortin would be stopped. Kublalsingh was hospitalised at St Clair Medical yesterday morning after he fainted at Maracas Beach, where he planned to take a sea bath.
He embarked on a second hunger strike on September 17, demanding that the Prime Minister meet with him and the Highway Re-Route Movement (HRM) to look at alternative routes from Debe to Mon Desir.
Kublalsingh also requested that the recommendations of the Armstrong report, which was to stop the Mon Desir to Debe section and conduct reviews, be implemented.
Persad-Bissessar attended the Office of the Prime Minister's employee recognition, long service awards and retirement function at Hyatt Regency hotel in Port of Spain yesterday afternoon.
Members of the media were told at the function that the Prime Minister would visit Kublalsingh at the hospital after the event.
Kublalsingh's family agreed to Persad-Bissessar's request to visit him on a personal level.
At around 7 p.m., Persad-Bissessar arrived at the hospital, where there were scores of people outside holding a candlelight vigil and praying for Kublalsingh at nearby Nelson Mandela Park, formerly George V Park.
In a statement before visiting Kublalsingh, the Prime Minister indicated that while she was personally grieved by Kublalsingh's situation, she remains steadfast that the nation cannot be held to ransom and the highway's construction will go on.
"If there were some way I could end this without compromising the better interests of the nation I would and God knows we have tried," stated the Prime Minister.
She said it was far easier for someone who isn't in the position of making decisions that are detrimental to the country to say "stop the section of the highway".
"But when faced with the consequences of cost and delay to the highway's completion to the country it isn't that easy and even necessary, as advised by our technical experts, whose views and reports do not concur with those of the Highway Re-Route Movement," stated Persad-Bissessar.
The Prime Minister pointed out that she has met with Kublalsingh and the HRM several times and held discussions.
"There are those who said if I met with him yet again he would call off his hunger strike. This is not so," she added.
"Wayne has consistently said that any action he takes will only cease when he gets his way, that is, work on the section of the highway be immediately halted," said Persad-Bissessar.
Last month, the Prime Minister wrote to Kublalsingh where she stated that she would not allow the nation to be held to ransom by his actions and emphasised that the courts should be left to adjudicate on the matter of the highway.
"As much as I care for Wayne, I cannot allow the nation to be held to ransom. I cannot hold Wayne's concerns and my own for his health above that of the country I swore to serve," stated Persad-Bissessar.
The Prime Minister also expressed great disappointment that members of the Inter-Religious Organisation (IRO) could not persuade Kublalsingh to end his hunger strike when they met with him last week.
She stated that she asks God, "who guides us all, to bring wisdom and understanding for the greater good of all".
"I make no decision and offer no personal judgment without prayerful submission and I do so yet again," said Persad-Bissessar.