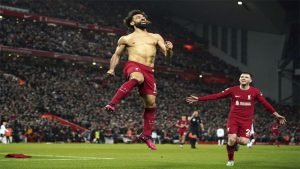 MANCHESTER, England (AP) — Jurgen Klopp had a question of his own when addressing journalists after Liverpool's 7-0 rout of Manchester United on Sunday.
Resisting the temptation to bask in a record win that almost certainly put an end to United's feint Premier League title challenge, he remained level-headed and cast his mind back to Liverpool's previous goalfest in the early weeks of the season.
"Does anybody know when we won against Bournemouth 9-0 how the next result was?" he asked.
The answer was a 2-1 win over Newcastle, which came curtesy of Fabio Carvalho's goal in the eighth minute of added time. That victory came on Aug. 31. Liverpool didn't win again in the Premier League until Oct. 16, when the team beat Manchester City 1-0.
Klopp's point: Even big results mean little unless they are capitalized on.
Liverpool's problem this season has been an inability to produce consistent winning runs, which is why a team that competed for four trophies last season is fighting to secure Champions League qualification this year.
United's issues have been the opposite.
While Sunday's result equaled the biggest defeat in the club's history, it was not the first time United manager Erik ten Hag has been humiliated in his early reign at Old Trafford.
The 4-0 loss to Brentford in only the second game of the season sparked debate about whether the Dutchman would keep his job. Then there was the 6-3 loss to Manchester City in October, which led him to question his players' bravery.
Yet United went into Sunday's game on the back of winning the League Cup and still in contention for three more titles. That may no longer be the case with a title challenge now likely beyond them after falling 14 points behind Premier League leader Arsenal, but Ten Hag will hope for another rousing response from his players to ensure a season that is still full of promise does not unravel.
LIVERPOOL'S MOMENTUM
There have been signs in recent weeks that Liverpool is coming into form at just the right time to salvage a desperately frustrating season.
Champions League qualification is now in sight, with Liverpool only three points behind fourth-place Tottenham with a game in hand and superior goal difference.
Newcastle is one point behind Liverpool and has played a game fewer, but it is the Merseyside club that appears to have the momentum and has also been boosted by key players returning from injury.
KLOPP'S FORWARDS
Liverpool's new look attack produced its most ruthless display against United as Cody Gakpo, Darwin Nunez and Mohamed Salah scored two goals each.
Klopp's success in recent years has been built on his attacking trio of Sadio Mane, Roberto Firmino and Salah. Understandably, it has taken time for him to reconstruct his forward line and Sunday provided a glimpse of the future.
Gakpo's performance, in particular, may have left United regretting the decision not pursue the player that Ten Hag wanted to sign in January, following the departure of Cristiano Ronaldo.
CONSISTENCY
On only one occasion this season has Liverpool managed to put a run of more than two league wins together — a four-game sequence spread over either side of the World Cup in November and December.
Since the start of 2023, there have been humbling losses against Brentford, Brighton and Wolverhampton.
Newcastle's wobbles have opened a path to the top four, but Klopp will likely need his team to go on an extended winning run to capitalize.
CHAMPIONS LEAGUE?
The 5-2 loss to Real Madrid last month has left Liverpool with an enormous task to advance to the quarterfinals of the Champions League.
If the second leg was at Anfield, rather than the Santiago Bernabeu Stadium, then another famous European comeback might not have been out of the question for a club that overturned a 3-0 loss to Barcelona in the semifinals of 2019.
But even if it is unlikely Madrid will collapse, the win against United will serve as a reminder of Liverpool's threat.
TEN HAG'S TOOLS
After the loss to Brentford, Ten Hag ordered his players to come in the next day and run 8.5 miles (about 13.5 kilometers) during a British heatwave in August. It was the difference between the distance run by both teams in that match and Ten Hag joined in on the run as a show of unity.
After losing to City, he publicly called out his players and notably left Ronaldo on the bench at the Etihad Stadium.
On both occasions, Ten Hag got the desired effect. United beat Liverpool and Arsenal in the aftermath of Brentford and lost only one game in 12 in the league after City.
He described the Liverpool loss as unprofessional. Whether that is enough to get a reaction from his players will become clear in the coming weeks.
WORK IN PROGRESS
The latest humbling was a reminder that Ten Hag is still in the process of building this United team and his squad remains short in key areas.
It was notable that Gakpo — a player Ten Hag had targeted in January — came back to haunt him, while loan signing Wout Weghorst was ineffective at Anfield.
Games like this also underline how much United misses the assuredness and creativity of Christian Eriksen, who is out with an ankle injury.
Ten Hag wants to bring in a top center forward in the offseason, with Harry Kane linked with a move from Tottenham. He also needs more cover in midfield, with Barcelona's Frenkie de Jong and Borussia Dortmund's Jude Bellingham both admired by United.
TROPHY HOPES
The Premier League title was always a long shot and it now looks like a two-horse race between Arsenal and Manchester City.
But the loss to Liverpool doesn't greatly change United's season. Champions League qualification is still in its own hands, while the FA Cup and Europa League are there to be won.
United hosts Real Betis in the round of 16 of the Europa League on Thursday and faces Fulham at home in the FA Cup quarterfinals later this month.
After winning the League Cup, another trophy of any description would be considered a major success alongside a top-four finish.