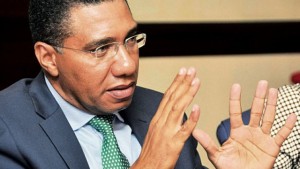 Andrew Holness last night delivered a passionate defence of his party's income tax plan, insisting that local and international experts believe it is the best way to stimulate the Jamaican economy, and told thousands of cheering Jamaica Labour Party (JLP) supporters in Half-Way-Tree that change is coming to the country.
"I know you can feel the momentum building for a change in Jamaica," Holness said. "It is unstoppable. It is a runaway victory that will sweep away every zinc fence in every lane when we implement our rural and urban renewal plans, especially for the urban areas of our cities and major towns."
Holness, the JLP and Opposition leader, used his speech to scold the Portia Simpson Miller-led Government for its failures, such as the fire at Riverton dump, the dead babies and Outameni scandals, the outbreak of the chikungunya virus, the distribution of contaminated petrol, and urged Jamaicans to vote them out of power in Thursday's general election.
"They promised better economic management, yet you have suffered because they froze your wages, while 40 per cent of your purchasing power was eaten away by the slide in the Jamaican dollar," Holness said.
"And even though our dollar is cheaper, which means our goods should be cheaper overseas, our exports fall every year; and every time the dollar devalues the national debt grows. That policy has only hurt Jamaicans," he added.
Turning to his income tax proposal, which has been heavily criticised by the PNP as unworkable, Holness said that several tax studies on Jamaica have all concluded that the country should move away from income taxes to consumption taxes.
"In 2009 we had doubled the income threshold from $220,000 to $440,000. At that time, 139,000 workers no longer paid income tax. That is one of the reasons why we were able to withstand the shock of the worst depression and oil price shock. So it may sound new and novel to those who have short memories, but this is something that the Labour Party has done before and been successful," Holness said.
He said in 2011 when he became prime minister, the head of the Private Sector Working Group on Tax Reform, Joe Matalon, came to him with a proposal to further lift the income tax threshold from $440,000 to $1,000,000.
"This was part of the plan that we had agreed to at the time, along with other tax reform measures. So as far back as then this was being contemplated. Furthermore, we have consulted with several local and international experts in the field. They all think it is the best way to stimulate our economy," Holness added.
Yesterday, Matalon revealed in a Gleaner column that he was author of a private sector group analysis that deemed Holness's plan to get rid of personal income tax for everyone who earns a gross salary of $1.5 million or less as unworkable.
The income tax proposal is part of a 10-point plan that Holness said a government led by him would implement for economic growth.
Under the plan, persons earning above $1.5 million and less than $5 million will continue being subjected to the 25 per cent tax on income in excess of the current $592,800 threshold, while anyone earning income in excess of $5 million per year will be taxed at the rate of 25 per cent of their entire income.
Responding to critics of the plan, Holness said he and his team were confident in their numbers, because they have been thoroughly researched.
"Moreover, our plan will not affect government revenue. It will not be inflationary because there is productive capacity in Jamaica to respond to increased demand. In fact, there will be a positive impact for your household and for our economy. Together we can build a better Jamaica," Holness said.