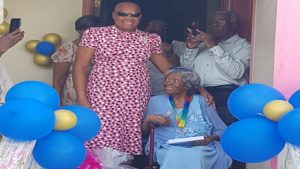 The Governor-General, Dame Marcella Liburd, joined family, friends, Her Honour, the DeputyGovernor-General and other government officials and representatives of the ministry of social services in the Nevis Island Administration and in the Federal Government this morning, in celebrating the 100th birthday of Mrs Leontine Clarke of Chicken Stone, Nevis.
Mrs Clarke has impacted the lives of many as a music teacher and as a leader in the Seventh Day Adventist Church. This morning she was well-dressed, smiling and in a clear and sound response to all her birthday greetings she thanked everyone and said in a jovial manner: "I didn't realize I was that old."
When the GG Dame Marcella Liburd introduced herself she smiled sweetly and said:"I looked at you on the television when you visited the King." It was a short, simple but powerful celebration. For ten (10) decades Mrs Clarke has blessed the lives of her family, friends , community and country. We pray that Gid will continue to bless her with good health and strength to carry on.