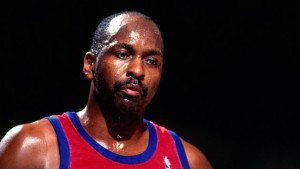 NORFOLK, Va. — The Virginia medical examiner's office says Hall of Fame basketball player Moses Malone died of natural causes.
Malone was found dead in a Norfolk hotel Sunday morning. He was 60.
On Monday, the Office of the Chief Medical Examiner said Malone's cause of death was listed as hypertensive and atherosclerotic cardiovascular disease.
Malone had just attended this weekend's enshrinement ceremonies at the Naismith Memorial Basketball Hall of Fame in Springfield, Massachusetts. Nicknamed the "Chairman of the Boards," Malone was inducted himself in 2001 and remains in the NBA's top 10 in career scoring and rebounding.
"With three MVPs and an NBA championship, he was among the most dominant centers ever to play the game and one of the best players in the history of the NBA and the ABA," NBA Commissioner Adam Silver said.
A 6-foot-10 center who was the first to make the leap right from high school to the pros, Malone is the NBA's career leader in offensive rebounds and led the league in rebounds per game for five straight seasons from 1980-85.
Malone led the 76ers to the 1983 NBA championship team, and the club said he will "forever be remembered as a genuine icon and pillar of the most storied era in the history of Philadelphia 76ers basketball."
That was Malone's lone title, helping Julius Erving and the 76ers get to the top in his first season after arriving in a trade with Houston. He won his third MVP award that season and made his famed "Fo', Fo', Fo'," prediction that the Sixers would win all their playoff series in four-game sweeps.
He wasn't far off: The Sixers lost just one game in that postseason before sweeping the Lakers in the NBA Finals, with Malone winning the finals MVP award after averaging 26 points in that postseason.
"No one person has ever conveyed more with so few words — including three of the most iconic in this city's history," 76ers CEO Scott O'Neil said. "His generosity, towering personality and incomparable sense of humor will truly be missed."
Malone's staggering statistics across 21 seasons and 1,455 professional games included 20.3 points and 12.3 rebounds per game. He holds NBA records for offensive rebounds in a career (6,731), season (587) and game (21).
Powerful on the court, he was helpful to both friends and foes off it.
"The man I called `Dad' passed today," Hall of Famer Charles Barkley said. "Words can't explain my sadness. I will never know why a Hall of Famer took a fat, lazy kid from Auburn and treated him like a son and got him in shape and made him a player.
"Every time I saw him I called him `Dad.' I hope he knew how much I appreciated and loved him."