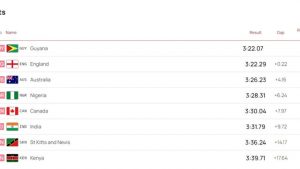 Guyanese athletes closed off their Commonwealth Youth Games campaign with a gold medal.
The team of Malachi Austin, Narissa Mc Pherson, Javon Roberts and Tianna Springer outclassed their opponents in the mixed 4x400m relay.
The Guyanese quartet on paper was one of the strongest teams as it included the women's 400m champion and bronze medallists and the men's 400m silver medallist.
Team Guyana showed victory was on their mind as Austin handed over the baton to Mc Pherson first after his lap of the track.
She led for about a quarter of the race before she was overtaken by England's Charlotte Henrich, who is the 400m women's silver medallist.
England and Guyana battled for the top spot until the home stretch when Springer kicked into action to overtake Stephanie Okoro for gold.
Guyana clocked three minutes, 22.07 seconds to set a new Commonwealth Youth Games record.
With this win, Guyana jumped to 11th on the medal standing, ahead of Canada and Jamaica, with two golds, one silver, and a bronze medal.
The gold medal is Guyana's first in the mixed 4x400m relay at the Commonwealth Youth Games.