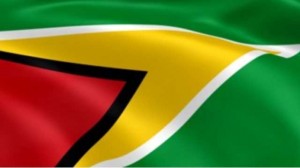 The Guyanese Government said it will not engage members of a US delegation that will be in the country on a "fact finding mission" into claims that the state is discriminating against citizens of African ancestry.
In a statement on Sunday, the government said it would not meet with the US delegation since its members are "acting in their private capacities" and their trip "is a clear interference in Guyana's domestic politics with a bias towards the political Opposition in Guyana."
The delegation, which is led by Georgia Assemblywoman Dee Dawkins-Haigler and South Carolina Representative John King, is due to arrive in Guyana today and will leave on November 19.
In a statement prior to their departure, it was noted that the delegation is "is concerned about allegations of discrimination towards certain ethnic groups in Guyana as well as Guyanese-American citizens currently residing in and out of Guyana."
Guyana said the delegation is visiting after a "one-sided engagement" called the "Conference on Guyana" in Washington, DC that was organised by Guyanese-American activist Rickford Burke.
"This one-sided engagement presented the platform for Opposition Politicians to spew concocted and fabricated narratives about the Government of Guyana, including their usual diatribe about racial discrimination and extra judicial killings, without any fact-checking mechanism and without the Government being afforded a hearing or the facility of a response. It is obvious that these jaundiced, baseless and unfounded narratives of these Opposition Politicians, unsupported by any evidence whatsoever, have influenced this delegation," the government said.
"Burke is wanted by law enforcement agencies in Guyana for a number of criminal offences for which he is charged, including, extortion of Guyanese businessmen. These charges are pending before Magistrates' Courts in Guyana. Burke is publicly known for his daily diet of racist rants on social media with the intent of exciting racial hostilities, strife and ethnic violence among the different ethnic groups of Guyana. His inane rantings are invariably directed at the People's Progressive Party Civic (PPP/C) Government."
The government stated that any foreign delegation interested in learning about the problems Guyana has faced historically should look at matters such as the fraudulent elections of 1968, 1973, 1980 and 1985; human rights violations that took place from 1968 to 1992 and the abuse, violence and killing of persons opposed to the then Government, which is now the opposition party.