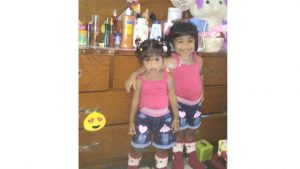 Afire in Guyana has claimed the lives of two young girls.
The Guyana Fire and Rescue Service (GFS) identified the deceased as nine-year-old Anamika Hardat, who was disabled, and her sister three-year-old Shameena
GFS reported the deadly blaze occurred just after 1 pm on Wednesday at the two-storey wooden and concrete house that the girls shared with 10 other family members.
The sisters were left at home, which is located at Lot 60-61 Belmont, Mahaica, East Coast Demerara, without adult supervision, GFS said in a statement.
GFS said it sent fire tenders to extinguish the blaze but the home was gutted.
The fire service said it is saddened by the loss of two young lives.
GFS said it "continues to advise citizens to exercise caution and follow safety measures to avoid home fires. Additionally, children should be educated on the dangers of fire starters (matches and lighters) and warned about their use".
"DO NOT leave children unattended or at home without adult supervision. Keep children away from the cooking area, and ensure matches and lighters are out of their reach at all times."
GFS is continuing its investigation into the fire to determine how it was started.