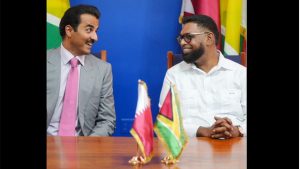 Two bilateral agreements and a Memorandum of Understanding (MoU) aimed at enhancing cooperation between Guyana and Qatar were signed on Tuesday.
President of the Republic of Guyana, Dr Irfaan Ali and the Amir of the State of Qatar, His Highness Sheikh Tamim bin Hamad Al Thani witnessed the signing ceremony.
The agreements signed covered the Promotion and Protection of Mutual Investments and Economic and Technical Cooperation, while the MoU is on Legal Cooperation between the two nations.
The documents were signed by the Minister of Foreign Affairs and International Cooperation, Hugh Todd and Qatar's Minister of Commerce and Industry HE Saad bin Sherida Al Kabbi and Minister of State at the Ministry of Foreign Affairs, HE Sheikh Mohammed Bin Hamad Bin Qassim Al Thani.
The signing of the agreements comes on the heels of the historic one-day State Visit by the Amir.