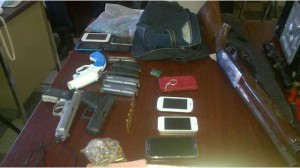 Residents can rest better knowing a police raid at a St Johnston's Village house helped to keep "enough ammunition and guns to supply a small armory," off the streets.
Assistant Commissioner of Police, Nuffield Burnette confirmed that a 46 – old man and his 25 – year old girlfriend are now in custody after the search warrant was executed in the wee hours of Saturday seizing five illegal guns, almost 200 rounds of ammunition, along with several other items.
Police unearthed a Gamo air riffle with scope attached, a Remington 12 gauge shotgun, a 380 Glock pistol, 92FS Beretta handgun and an Orion flare gun.
They found five loaded magazines – two for the Beretta each containing 10 rounds and two matching the Glock, each clip had 15 rounds. One magazine did not match the weapons seized in the operation.
There were also 25 rounds of 9mm rounds, 70 additional rounds for the Glock, six -.32 rounds and 26 for a 12 gauge gun.
During the search, Burnette also said seven cellular phones, a 32' flat screen LG television, and four vehicle licence plate were confiscated.
"The suspects face charges of possession of ammunition and guns. They could also be charged if they cannot verify ownership of the phones and TV's because there have been a number of reports of stolen electronics. The licence plate may not be stolen but we believe they could have been used for clandestine purposes," the assistant commissioner said.