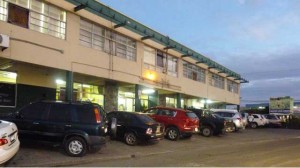 ST JOHN'S, Antigua – A lone gunman held up an employee of the Central Marketing Corporation (CMC) on the compound and robbed him of the day's takings before fleeing in a waiting vehicle yesterday.
The employee was robbed shortly after 4:30 pm when CMC closed the business for the day.
A senior member of staff, who did not wished to be named, told OBSERVER media, that just before 5 pm, a male employee was about to leave CMC, located at the corner of Sir Vivian Richards Street and Valley Road, when a man accosted the staff member with a gun and demanded he hand over the money.
"Our employee was still on CMC's gallery, leaving for the bank – our accountant usually hands the money over to a male staff. The guy walked up to him with bandages on his face that made it appear like he was injured and held up the employee," the unnamed senior staff member said.
The senior staff said the gunman grabbed the money and rushed back to the white Kia motor vehicle, parked outside on the curb with a lone accomplice behind the steering wheel.
Assistant Commissioner of Police Nuffield Burnett confirmed yesterday that police are looking for the vehicle and the bandits.