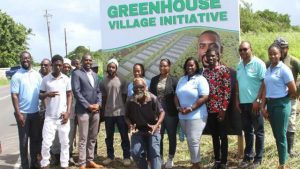 In a landmark move towards achieving food security, the Ministry of Agriculture, Fisheries, Marine Resources and Cooperatives launched its Greenhouse Village Initiative near the scenic outskirts of Newton Ground on Friday, October 20, 2023.
Minister of Agriculture, Fisheries, Marine Resources and Cooperatives, the Honourable Samal Duggins, said that with this Initiative, the government's unwavering commitment to elevate crop production shines brightly.
"By focusing on merging sustainable productivity with climate change adaptation and mitigation strategies, the Greenhouse Village is more than just a project; it's a vision for the future of agriculture in the region," said Minister Duggins.
Minister Duggins emphasized the far-reaching implications of this initiative.
"The Greenhouse Villages are not just a leap towards sustainability, but a strategic step in drastically reducing our region's Food Import Bill," stated Minister Duggins.
The first phase of the project will witness the construction of 15 state-of-the-art greenhouses. These will specialize in the mass production of priority crops, including peppers, tomatoes, leafy greens, cucumbers, and melons.
The event, led by Permanent Secretary Miguel Flemming, was graced by the presence of senior government officials, dedicated technical staff, and several enthusiastic crop farmers, all sharing the collective vision for a self-sufficient and environmentally-conscious agricultural future.