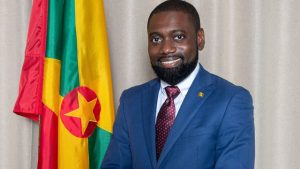 Minister of State with responsibility for Youth, Sports and Culture, Ron Redhead, who was involved in a vehicular collision with a teenager on a bicycle says the young man is out of hospital recovering and thankfully did not require surgery.
The incident occurred on Saturday around 5:30 pm in the community of Willis. A statement said that while no serious injuries were reported, as a precautionary measure the young man was taken to the general hospital for assessment and observation.
The minister came under heavy criticism when news began spreading about the incident. A video which captured the collision has since been released online with social media users exchanging views on who was in the right and who was in the wrong.
On Monday, Minister Redhead stated the following about the incident on Facebook:
"Hey guys as you are aware over the weekend I was involved in a collision with a young man riding his bike at Willis. He is now out of the hospital recovering and thankfully did not require surgery. It was my pleasure to drop him home. One love to his mom, his sister and Grandfather ��I give thanks as it could have been much worse and I am grateful that he lived!"