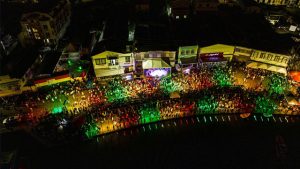 As Grenada engages in months of celebrations before marking its 50th anniversary of Independence on February 7, 2024, the island has included a light tunnel and installed information plaques which honours the nation's history while offering an unforgettable experience for all.
The light tunnel comes to life every evening as a beacon for all on Grenada's journey of progression and evolution through the years. Residents near the location and visitors have shared the sentiment that it is truly a mesmerising visual which profoundly deepens the sense of patriotism, unity and pride.
The information plaques strategically positioned along the Carenage and throughout the light tunnel showcase the pivotal moments and figures who have shaped the nation over the past five decades. The plaques offer a captivating glimpse into and encourage learning and appreciation of Grenada's rich history in a fun and interactive manner.
The Carenage is an exceptional tribute to the nation's 50-year journey which encapsulates the essence of this milestone celebration "One Journey, One People, One Future". As one resident remarked, "We cannot, we must not go back from this".
By day or night, a visit to the Carenage in Grenada is one worth making.
The public is being urged to immerse in this unique and inspiring celebration of Grenada's history and culture and to capture their own 50th jubilee celebration memories.