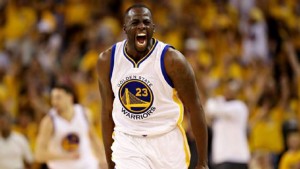 OAKLAND, Calif. — If part of the Cleveland Cavaliers' strategy was to let Draymond Green try to beat them, Green one-upped them. He decimated them. He took their invitation and pummeled the Cavs over the head with it. It was Green's turn on the Golden State Warriors' rotating carousel of stars. He put up 28 points, seven rebounds and five assists to lead the way in Golden State's 110-77 romp in Game 2 of the NBA Finals.
It became obvious from the opening moments of the first game that the Cavaliers would offer Green as many 3-pointers as he wanted this series, while they focused their defensive attention on Stephen Curry and Klay Thompson. Green has taken more uncontested shots than any other player so far this series.
The strategy was somewhat effective in Game 1, in which Green missed four of his six 3-point attempts. That was one of the few things that went Cleveland's way in the Game 1 loss, so they stayed with it in Game 2.
Only this time, when they gave Green open 3-pointers, he buried them — five of eight in all — and gained more confidence with each one, to the point that his last attempt was an uncharacteristic, off-the-dribble, contested leaner that dropped through and sent Curry into Monmouth bench-type reactions.
Warriors coach Steve Kerr called it "the only one I didn't love." Green admitted that it was an "awful shot." "It was pathetic," Green said. "But … the ball stopped moving, players stopped moving, so I thought, 'All right, well, I'm going to get some shot up.' And it happened to go in."
In Game 2, even the "awful" and "pathetic" worked for the Warriors, who led by as many as 34 points en route to a 2-0 series lead, and Green, who produced his highest-scoring Finals game without distorting the offense. Green took 20 shots, while Curry and Thompson attempted a combined 24 (they both made 4-of-8 3s), and the Warriors were actually better for it.
"I don't come into the game saying, 'Oh, I have to shoot a lot more,'" Green said. "Like, that's not me. That's not what I do for this team. But at the end of the day, if the game says shoot, you're supposed to shoot. Because usually when you don't, it turns into a disaster."
After Green made another jumper off the dribble, he settled into the low post the next time down and found a cutting Thompson for a layup. Green showcased his versatility and played his role on the Warriors' defense, which, with its ability to switch so effectively, has reduced the Cavaliers' offense to its most basic form. He helped the Warriors' small lineup pulverize the Cavaliers' attempts at a small lineup. (The Cavs are minus-49 when using small lineups in this series.)
The fact that the Warriors won the two games so decisively and in such different ways is what should worry the Cavaliers. There's no quick fix, no simple adjustment. "It's hard for me to kind of pinpoint what's not working and what could work right now," LeBron James said. "Obviously, not much is working, especially offensively."
It's not a matter of effort. Tristan Thompson continues to go after every rebound, and Richard Jefferson gave the Cavaliers a surprising energy burst in the first half. Turnovers are one thing. The Cavs had 18, with LeBron contributing seven, and the miscues led to 26 Warriors points. But the Cavs just can't find enough ways to hold down all the Warrior threats.
Now Cleveland has to worry about the availability of Kevin Love, who was elbowed in the back of the head while Harrison Barnes was going for a rebound in the first half and left early in the third quarter after complaining of dizziness. He is in the NBA's concussion protocol, and he must remain symptom-free through a series of progressive tests before he will be cleared to return.
But it's not as though Love has made much of an impact on this series. He was 2-for-7 and had three rebounds in his 21 minutes in Game 2. Kyrie Irving wasn't much more effective, as he missed nine of 14 shots and looked disconnected from the offense when he didn't have the ball. LeBron couldn't single-handedly keep the Cavaliers in the game the way he often did last year.
The narratives are swirling already. LeBron knows what's out there. He said the bigger concern is that "internally, we have to figure out how we can get more guys involved."
The Warriors are even more threatened by the tone of the conversations. The questions asked of them have swerved to whether they have mastered the Cavs, whether they have taken control of the series and even whether they are ready to anoint themselves the greatest team of all time.
The one thing they keep saying and keep proving is that they apply lessons from their experiences. It won't take much for the Warriors to recall the poundings they took in Games 3 and 4 of the Western Conference finals in Oklahoma City and realize they need to respond with an effort in Cleveland that approximates their play in Game 6 of the series against the Thunder.
Lately, it's not a matter of what for the Warriors. It's a matter of who: Thompson in Game 6 in Oklahoma City, Curry in Game 7 of those conference finals, Shaun Livingston in Game 1 of this series and now Green in Game 2.
"We're doing it by committee, and everybody's playing their role," Curry said. "The crazy thing is we can still play better."