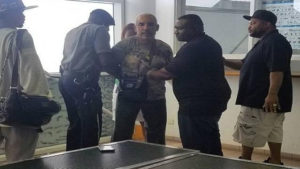 The fallout from the arrest of two investors in a proposed cannabis business has tensions running high in St. Kitts.
Alki David and Chase Ergen of SwissX Labs, a company which specializes in cannabis-based medicines, have linked with Opposition Leader Dr. Denzil Douglas and his team with the intention of venturing into cannabis production on the island for medicinal purposes.
The wealthy investors were however arrested after arriving in St. Kitts on a private plane last week, and David was subsequently charged with several drug offences for the cannabis plants he had imported on the May 7 flight.
According to David, the plants and other products had been declared to Customs and other relevant government agencies prior to arrival, in accordance with local procedure. He said there were no illegal drugs in his cargo and exhaustive testing on the hemp plants found no trace of any illegal substance.
But David has made it clear that he feels the arrests were arbitrary and Prime Minister Dr. Timothy Harris was behind it. At a press conference Monday, David revealed his intension to sue Prime Minister Harris over the arrests.
"I first had a little meeting yesterday [Sunday] with Mr. Harris at the [Park] Hyatt Hotel. It was a very civil meeting, very polite meeting, I sat down opposite him. It was very very nice; we sat and talked for 15 minutes. I left. I was being asked to do something I didn't want to do, so I left. Chase went in and started having conversation with him. A bunch of witnesses who work there saw his guards pick Chase up and take him out, and the next thing you know he's being arrested for drugs, for cocaine, which is Ketamine, which is his medicine that has been taken away from him and he's now languishing in jail.
"So let me tell you Mr. Harris what's gonna go down. There are three lawyers here from the UK and they're gonna take you down Sir; you don't do that to me or to my friend- end of."
When asked if he prefers to do business with the Harris-led government or with Dr. Douglas, David replied:
"What do you think? That a lil facist dictator, some overblown dictator who thinks that he's going to be able to do this? No! What he's done is illegal, it's wrong and it's unconscionable. I took on four of the biggest companies in the United States and I beat them after 7 years of lawsuits, just out of principle, nothing else, because they called me a liar. Mr. Harris here has a whole new thing coming at him."
But David's strong language against the Prime Minister and his use of curse words during the live press conference and social media rants appear to have offended many persons in the society. Responses to the social media posts about Tuesday's press conference include persons calling David a disrespectful entitled bully who should not be allowed to do business in St. Kitts and Nevis.
David was expected to appear in the magistrate court Tuesday to answer to his charges of Possession with Intent to Supply, Possession of Controlled Drugs and Importation of a Controlled Drug into the Federation. After spending the night in a holding cell last Thursday, he had been released on a cash bail of $30,000 that had to be paid forthwith, a sum of $50,000 with two sureties, and was ordered to surrender all travel documents. David was also ordered to report to the Frigate Bay Police Station daily.