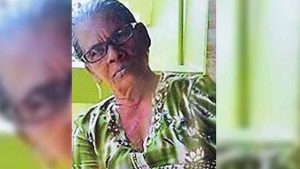 NO SYMPATHY, no apology, no redress, no justice from the Trinidad and Tobago Police Service.
This is how a family views the killing of their matriarch, 80 year old Sona Lallo, whose life was snuffed out by a bullet fired by a police officer's service weapon one year ago tomorrow.
Lallo's grandson, Zahid Khan, said the killing remains fresh in the minds of her relatives, who cannot find closure.
Khan said a promise made by Acting Commissioner of Police Stephen Williams that the matter would be thoroughly investigated and the family would get justice, went unfulfilled.
Khan said that he is not being contacted by the police and attempts to contact the investigating officer has proved futile, being told that the officer had been transferred out of the division.
"It is murder. My grandmother was healthy and doing everything for herself. She was inside her old little board house and she was shot and killed. It seems that the police service has forgotten the police motto to protect and serve all", said Khan. "The sadness is real. It is like it just happened. It's like my grandmother was murdered and we know who it is but got no justice".
Lallo, of Rancho Quemado, was in her house when she was shot in her head, and she died two days later at hospital.
It was reported that police were chasing after two suspects in the area. Police said the suspects jumped a fence in a bid to escape.
However, while climbing over the fence in pursuit, a police officer fell.
The family was later told that the weapon, on impact, discharged two bullets, one of which penetrated the wooden wall of Lallo's house and struck her.
Khan said however, forensic ballistics analysts that investigated the trajectory of the fatal bullet told the family the true story of what happened.
"Forensic officers came with a sort of laser gun. They did testing with it to show where the (offending) officer stood and fired the shot. What they found was that the police officer had raised his hand and fired the shot. It showed that the bullet went through the wall before it hit in her in her head", said Khan.
The grandson said one of his relatives was present when the analysts came that day, some three months after Lallo had been killed.
"Nine months later and they haven't gotten back to me with an official report of statement. The police are just going about their normal work. The officer was never out of the service. We just have to live with the fact that we lost her it seems", he said.
Khan recalled that his grandmother was a very active senior citizen, whose untimely, tragic death had left the family empty.
Lallo was a mother of ten, grandmother of 38, and great grandmother of 31.
"She lived a very careful life. She would always say 'Don't go outside and lime late'. But looked what happened to her. She was inside living normally when this happened", he said.
"She depended on no one. She ate her meals which she prepared herself. She washed her own clothes. At 80 years old she very healthy. She went to the beach with the family just the month before on March 30. She heard about the Boardwalk in Chaguaramas and she wanted to go. We took her and she limed and enjoyed herself. She was not a sick, or bed-ridden person. We all know she had to go but not in the manner in which she went", he said.
Khan said the family felt disrespected that there has been no redress from the TTPS.
"The Police Service paid the funeral cost for an 80 year old woman, a law abiding senior citizen. The price of a funeral is all that you can give to us for her life? A police officer murdered my grandmother and all you can give is the cost of a funeral?
Her life was worth more than that", he said. "Nothing can compensate for her life, but the police service has to take responsibility for what they have done".
Khan added: "The officer should be penalised. He is not better than any citizen. You can't go and shoot and kill an 80 year old woman and walk free. If we do not get justice from the police we will get justice from the Lord above.
The family will spend the anniversary of her death in prayer.