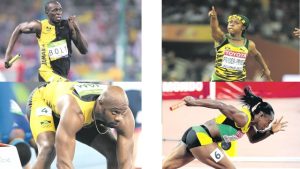 FOUR statues and cash awards of between US$2,500 and US$10,000 are among tributes planned for Jamaica's athletes who participated in the Summer Olympics in Brazil in August.
Gold medallists will be given US$10,000 (approximately J$1.3 million) for each medal, while competitors who failed to make the finals in their events will get US$2,500 (approximately J$325,000) for each event.
A relay gold medal will attract US$6,000 to be shared by all six members of the relay team. Managers and officials will get US$1,000 each.
In addition, four statues are to be built commemorating Jamaica's top four sprinters in recent years — the world's fastest athlete Usain Bolt, double 100 metres gold medallist Shelly-Ann Fraser-Pryce, and their predecessors Asafa Powell and Veronica Campbell Brown
Minister of Culture, Gender, Entertainment, and Sport Olivia "Babsy" Grange, who made the announcement in the House of Representatives yesterday, said that the statues will be built on a phased basis, with those of Bolt and Pryce scheduled to be completed for next year's 55th anniversary of Jamaica's Independence, and the others by the following anniversary.
Grange said that the statues will be placed at the National Stadium in Kingston, as part of wider development of the stadium complex, including the National Sports Museum.
Overseas-based athletes are expected to return home by today for the events celebrating their outstanding performances.
The events will kick off tomorrow at a reception to be hosted by Prime Minister Andrew Holness at Jamaica House.
Other events planned include the Rio gala and awards ceremony at the National Indoor Sports Centre on Saturday, starting at 7.30 pm, and the JN 5K Run/Walk, which will be a fund-raiser for charities in Western Jamaica, sponsored by the Jamaica National Group and supported by the Usain Bolt Foundation.
The western Jamaica reception will be held at the luxurious Braco Melia Hotel on Sunday.
Grange told the House of Representatives that other ideas to celebrate the athletes' feats are being considered and will be announced after they are approved.
In response to questions from the Opposition's spokesperson on sport, Natalie Neita-Headley, she said that the awards and events would be financed through support from the Sports Development Foundation, the Culture, Health, Arts, Sports, and Education Fund, the Ministry of Tourism, and a number of private sponsors.
"We have not gone to the Ministry of Finance to ask for additional funds. What we did was to draw from the resources that already exist," she said.
She said she was aware that there are differing opinions and perspectives on the matter of how best to organise and reward the athletes.
"To those who think we do not do enough, the fact is that the Government, through successive administrations, has spent billions of dollars on sports development," she stated.
She noted that, while the Government may not contribute to every aspect of the athletes' day-to-day existence, for the Rio games, her ministry, through the Sports Development Foundation, gave monthly grants to several members of the Jamaica team between October 2015 and July 2016 to help with expenses as they prepared to take on the world.
She also noted the implementation of the Jamaica Athletics Insurance Plan, which covers over 1,200 athletes, as well as the monthly subventions provided for 43 registered sports associations to help run their development programmes and prepare national teams for various competitions.