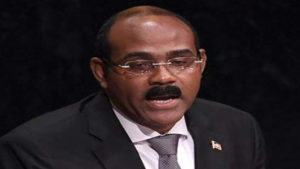 Gaston Browne was sworn in for a third consecutive term as Prime Minister of Antigua and Barbuda today. He led the ruling Antigua and Barbuda Labour Party (ABLP) to victory in the January 18, 2023, General Election after the ABLP won nine (9) out of 17 seats.
At today's ceremony, Steadroy Benjamin was sworn in as the country's Attorney General.
Following the swearing-in ceremony, in an interview with ABS Television, PM Browne, 55, said he was honoured and humbled that the people of Antigua and Barbuda have reposed such trust in him to extend his third term as Prime Minister.
"I recommit to the empowerment of the people of Antigua and Barbuda."
The prime minister said he has an unending love for the people of Antigua and Barbuda and while he does not necessarily wear it on his sleeves, the love for the people of Antigua and Barbuda is in his heart.
Commenting on the reduced number of seats won in this election, Browne said they always knew a third term would be difficult, especially when compounded by residual challenges- the global crisis, escalating fuel prices, food prices, the COVID-19 crisis and climate change. Issues which he pointed out the government has no control over.
"We have had a myriad of challenges. We have a fresh term, five years to resolve various issues."
Speaking on his Cabinet, the prime minister said he does not believe in bringing in a lot of senators to make ministers, and that his Cabinet will be 'a smaller and more nimble Cabinet.'