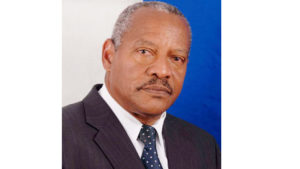 Austin Gary Dasilva is the new Chairman of the SCASPA Board of Directors.
Minister of Public Infrastructure Ian Patches Liburd introduced the newly appointed Chairman to the existing Board of Directors of the St. Kitts Air and Sea Ports Authority during a meeting Wednesday.
Minister Liburd said Mr. Dasilva is extremely qualified for the position.
"He comes with a vast amount of experience and he would that to bear the ongoing development of the Port, when we look at the human resources issues and the pension plan that we have to finalize, I believe it is a right time."
He thanked Don Boncamper for his contribution during his over fours years as the Port's Board Chairman. Boncamper resigned abruptly just over one week ago.
Mr. Dasilva thanked the Minister for the confidence bestowed in him, saying as the new Chairman of such an important entity as the Air and Sea Ports Authority, he will do his best to elevate SCASPA and ensure that all goes well.
Mr. Dasilva had served on the Port Board as a director for the past three years.