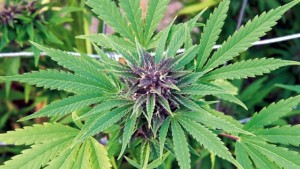 Mother-of-seven Adanna Stuart appeared in court on Tuesday charged with selling marijuana.
Stuart, 36, was charged along with her common law husband Dwayne Lutchman for possession of 20 foil packets of marijuana.
The illegal substance was found in a bag in the ceiling of a bedroom at their Tarodale, Ste Madeleine home.
They were charged by constable Lyndon Ramcharan after a search warrant was executed at the house.
Stuart told Antoine that the father of five of her children passed away last month.
She also said that her co-accused, the father of her two other children, had not gotten paid for the past two months.
Stuart, who represented herself in court, said her fussy baby was not staying with a baby-sitter and she was therefore unable to work.
"I did not have anybody to help me," she told the court.
Antoine said that selling marijuana was not the way out of her debt problem.
Stuart who had no previous convictions was fined $5,000. She has five months to pay the money or will serve six months in prison.
Lutchman is expected to be sentenced on November 3.