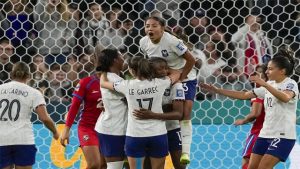 SYDNEY (AP) — Kadidiatou Diani scored a hat trick as France advanced to the knockout stage of the Women's World Cup on Wednesday after a 6-3 win over Panama.
The world's No. 5-ranked team recovered from the shock of going behind to Marta Cox's 30-yard (metre) free kick after two minutes at Sydney Football Stadium to finish atop Group D. Jamaica placed second in the group after a 0-0 draw with Brazil.
France, which had also been held to a 0-0 draw against Jamaica in their opening game, advanced after back-to-back wins against Brazil and Panama.
The French only needed a draw to guarantee their place in the round of 16 for the fourth time in succession. But France were given an early scare when Cox whipped the ball into the top corner, beyond the reach of goalkeeper Pauline Peyraud-Magnin.
France responded impressively to that early setback by going into the break with a 4-1 lead.
Panama's Deysire Salazar lashed the ball into her own net when trying to clear Maelle Lakrar's header in the 21st. Diani scored her first goal seven minutes later, and converted from the spot in the 37th after a handball.
Lea Le Garrec's made it 4-1 in the fifth minute of first half stoppage time.
Diani scored her second penalty seven minutes after the break after another handball.
Panama, ranked 52nd by FIFA, pulled a goal back with a penalty, converted by Yomira Pinzon in the 64th.
Lineth Cedeno scored another for Panama with a header in the 87th and Vicki Becho hit France's sixth in the 10th minute of stoppage time.