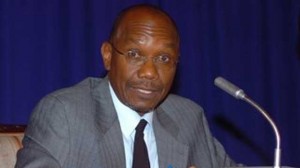 Former National Security Minister Martin Joseph, drowned in the waters off Tobago on Monday.
Joseph was reportedly staying at the Sky Lark villas, in the Mt Irving area. Early on Monday, he was with friends bathing in the sea, when he disappeared at around 7.30a.m.
His body was found a short time later, according to police.
According to the Parliament's website, Joseph has a background in management. From 1995 to 2002, he was the Member of Parliament for the St. Ann's East Constituency.
His appointment as a Cabinet minister began in 2001 when he assumed the portfolio of Minister of Public Utilities and the Environment. In October 2002, he was made a Government Senator and was given the portfolio of Minister of Housing, an appointment he held until November 2003. Joseph was appointed Minister of National Security in November 2003.
Joseph's formal education includes a Masters of Science in Economics from the University of Maryland, College Park, USA; a Bachelor of Arts in Geography and Regional Science: Minor in Economics, George Washington University, Washington D.C. USA; and an Associate Degree, Marine Sciences, University of the District of Columbia, Washington, D.C.
Joseph's professional accomplishments include participation on Committees to reform the structure by which the Parliament is managed; Chairman of the Board of Directors of the Public Transport Service Corporation (1992-1995); Member of the Board of Directors of the National Flour Mills Company Limited (1992-1995); Associate Faculty Member of Henley's Management College, United Kingdom, and Lecturer in Strategic Management at the Institute of Business of the University of the West Indies.