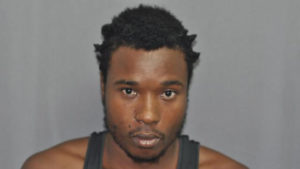 A Nevis man awaiting trial since 2016 escaped an attempted murder conviction, but has been found guilty of several other serious offences.
Lawton Forbes of Hamilton Nevis went on trial Monday, charged with attempted murder, possession of of an illegal firearm, possession of ammunition and illegal importation of an illegal fire arm. The charges stemmed from a March 4, 2016 shooting incident in Charlestown where an altercation resulted in gunfire that left an innocent bystander wounded.
Police said they responded to the report of gun fire and conducted a stop and search in the Ramsbury area, where they apprehended Forbes after he was seen throwing a weapon into some bushes. They recovered a .45 mm pistol and matching ammunition.
During the four-day trial, the prosecution entered damning evidence against the defendant, namely video surveillance footage from the bar where the altercation occurred that showed Forbes with a firearm in his hand chasing another male, and ballistics that determined a shell casing found at the scene of the crime matched the gun found on Forbes.
Forbes was on Thursday found not guilty of attempted but guilty of wounding with intent to cause grievous bodily harm, and illegal possession of a firearm and ammunition. He was represented by Attorney Chesley Hamilton and the prosecuting team consisted of Crown Counsel Greatess Gordon, Vaughn Woodley and Megan Nisbett.
Forbes was remanded into custody to await trial in April 2020.