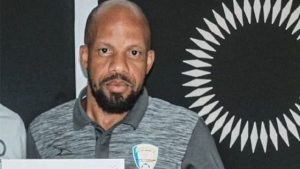 The football fraternity in St Vincent and the Grenadines has been left in shock as Lamont Hector, coach of Avenues United FC and a technical member of the St Vincent and the Grenadines Football Federation (SVGFF), was among the five victims shot dead in Kingstown on Wednesday night.
The SVGFF says it is shocked and deeply saddened by the events of Wednesday which claimed the lives of five young men including Lamont Hector.
The Federation says Hector was a part of the U15 Boys coaching team preparing to compete in the Concacaf U15 Championships in August and had recently attained the Concacaf C License certification.
The SVGFF says Lamont had a love and passion for the sport and made his contribution toward the development of the game. The Federation has extended condolences to all affected and expresses its abhorrence to all acts of violence in the Vincentian society.
Meanwhile Kingstown Soccer League has also expressed sadness over the fatal shooting of Lamont Hector.
In a statement, it says Lamont was a remarkable individual who touched the lives of many as a talented coach, a devoted brother, a loving father, and a cherished friend.
As a coach, the League says Lamont's straightforward honesty and unwavering dedication helped foster an environment of trust, growth, and accountability, where everyone knew where they stood and what they needed to work on.
It also noted Lamont was a part of the coaching team on the National U15 Boys currently training to participate in the Concacaf U15 Championships.
Lamont's dedication to personal growth and development, as evidenced by his recent attainment of the CONCACAF C License, was a testament to his pursuit of excellence both on and off the field.
It states Lamont's love for his family was unwavering, and his memory will forever live on in the hearts of those he held dear.
The League says to his teammates at Avenues United, the loss of such a respected coach and friend has undoubtedly left a void within the team.
It adds that Lamont Hector's legacy as a coach, brother, father, and friend will forever be in their hearts.
On Wednesday night Lamont Hector of Pauls Avenue, Dondre Hillocks of Long Wall/Belmont, Jamal Bobb of Ottley Hall, Ricky Taylor of Long Wall and 13-year-old Kashie Primus of Long Wall were gunned down in Kingstown in a mass shooting.