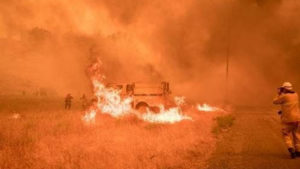 PARADISE, United States (AFP) — Thousands of firefighters battled blazes in northern and southern California on Tuesday as body recovery teams searched the remains of houses and charred cars for victims of the deadliest wildfires in the history of the US state.
At least 44 deaths have been reported so far from the late-season wildfires and with hundreds of people unaccounted for the toll is likely to rise.
Most of the fatalities have been reported from the town of Paradise, population 26,000, in the foothills of the Sierra Nevada mountains about 80 miles (130 kilometres) north of Sacramento.
Paradise, which is home to many retirees and has experienced an unusually dry fall, was virtually razed to the ground by the fast-moving "Camp Fire" blaze.
Residents have recounted harrowing tales of fleeing the fires on foot with little more than the clothes on their backs.
Others escaped by driving through tunnels of smoke and fire as flames licked at their vehicles on gridlocked roads dotted with abandoned cars.
Melissa Schuster, a member of the Paradise town council, told ABC News that the entire town "is a toxic wasteland right now."