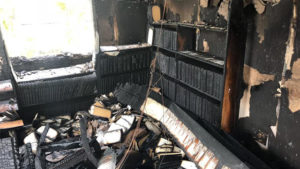 Police on Nevis are investigating a fire that occurred in the pre-dawn hours of Wednesday, which partially destroyed the offices of the law firm Daniel, Brantley and Associates, of which Premier Brantley is a senior Partner.
Speaking with Freedom FM, Divisional Fire Officer Garfield Hodge, Head of the Nevis Fire and Rescue Services Division said at around 5am they received a report of a fire in Charlestown and upon arrival discovered a back portion of the Juris Building on Main Street on fire.
"The Charlestown Fire Unit responded to a report of a fire at Main Street at around 5:03am, it happened to be on the property of Daniel Brantley and Associates Barristers at Law, Solicitors. It is a two-storey structure partially concrete and wooden upstairs and downstairs respectively. They encountered flames at the back portion of the structure and set about extinguishing the fire.
"The fire was relatively large; it would have taken well over half an hour to extinguish. Other than that I cannot go into too much detail about the intricacies of the incident."
DFO Hodge was asked if there was any preliminary indication of arson or any other possible cause of the fire.
"At this point in time the investigation is ongoing with a combined effort from the Fire Department and the Police Force."
Premier Mark Brantley told Freedom FM "The fire did considerable damage and the office has been closed. I am clearly concerned about the considerable loss of property and the displacement of loyal and hardworking staff. However, I am happy that there was no damage to life or limb and I am grateful for the outpouring of support from the Prime Minister and colleagues in Government some of whom traveled to Nevis to show their solidarity. I am also grateful to Leader of the Opposition Dr. Denzil Douglas and National Hero Sir Kennedy Simmonds who called to express their concern. The authorities are on site and investigating the matter to determine the cause. I await their findings."