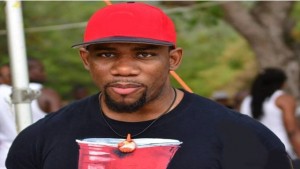 Hundreds of residents who all claimed they knew the country's latest road fatality victim personally, gathered on the scene of his death on Sunday evening in shock and disbelief.
Troy Periera, 35, died after he reportedly lost control of his Suzuki GSX motor cycle, license plate number A25099, on which he was travelling west to east on the All Saints Road.
Police said the father of two — an eight year-old boy and a three year-old girl — fell from the black motor cycle just opposite his La Pasture home, at about 5:30 pm, making him the country's seventh road fatality for 2015.
A doctor, who arrived on the scene at about 6:10 pm, pronounced the former Courts Antigua employee dead.
Many residents who rushed to the scene after word of the tragedy spread, told OBSEVER media that Periera was "one of the best sales representatives at Courts."
"Everybody knows Troy. All the people who you see here are probably his customers," one woman said.
"He was a pretty nice guy actually. I used to get all my computer programmes from him," another added.
Relatives who were also on the scene were heard wailing at the top of their voices.
Periera's girlfriend, Yannie Fredrick recalled the moments when she got the news from her best friend.
"I started screaming. Last thing he said to me before he left home is 'I'll be back.' After I got the news I just started running towards the accident," Fredrick said.
She said, "Troy was fun and outgoing. Troy was everything."
Fredrick said she doesn't know how she will cope now that her partner is out of her life.
"I don't know the way forward yet. I don't know. I'll hold on to all the memories" she added.
Police say they will continue to investigate the matter.
In January, construction worker, 51 year-old Murtland Bagot lost his life on the Sir Sydney Walling Highway after being thrown from a truck, which collided with another vehicle.
One month later, 46-year-old Caroline Tobin-John-Baptiste, of Guyana, was struck down while crossing All Saints Road.