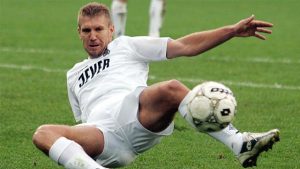 Former Bundesliga defender Marcelo Pletsch is awaiting trial in Brazil for allegedly trafficking 793 kilograms (1,749 pounds) of marijuana.
The ex-Borussia Moenchengladbach and Kaiserslautern man has reportedly been sitting in prison for nearly a year and is looking at a sentence of up to 15 years if he is convicted, according to German tabloid Express.
Back in November of last year, military police in Pletsch's hometown of Toledo found nearly one ton of marijuana pressed into 854 bars in a large truck that he owns. Brazilian authorities confirmed to Express that Pletsch was recently moved to the state prison in Cascavel as he continues to wait for trial along with two other men.
The 40-year-old Pletsch made 142 Bundesliga appearances for Gladbach and played one more season for Kaiserslautern before moving to Greek club Panionis Athens in 2006. He ended his career in 2011 and later told German magazine 11 Freunde in an interview that he was going into pig farming.
It appears that business either stalled, or he was farming something quite different altogether.