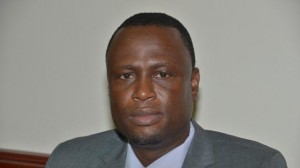 Students and teachers gathered at the western gate of the Basseterre High School for a second day of protest on Wednesday. Despite ongoing refurbishments at that school, staff and students continue to report symptoms that suggest an environmental cause.
On Wednesday evening guest on Freedom Fm's "Freedom Talk" Senator Hon. Nigel Carty, Minister of Education addressed the concerns at the school. He provided a comprehensive outline of the problems dating back some two years ago and explained actions that had been taken to remedy those issues. Senator Carty recounted tests carried out by Cariri and subsequently by CARPHA. He explained that a number of recommendations were made by both agencies and that the government had set about to ensure that each recommendation was made. In fact, he explained that as CARPHA had recommended a school nurse was placed at the Basseterre High School on the second week of the new academic year.
The education Minister revealed that while the nurses office hard been swarmed with students who claimed to be experiencing illness on the first day the nurse was appointed, the numbers have since drastically decreased. He quoted a report issued by the Ministry of Health which indicated that only eleven students had reported recurring illnesses to the nurses office.
In response to accusations by some individuals in the public that his Ministry has nonchalant and has shown incompetence in addressing the issues at the Basseterre High School, Senator Carty noted that for the last four months all stake holders have met every Friday with the aim of ensuring that all health concerns are addressed. He said that all stake holders have admitted recently that the Ministry of Education has done all in its power to rectify the problems at the school. Senator Carty explained that while there are existing problems at the school the ministry in collaboration with public works has continued to do infrastructural maintenance.