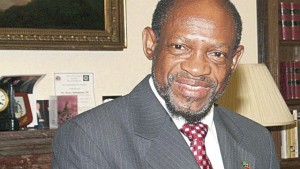 St. Kitts and Nevis Leader of the Opposition, the Rt. Hon. Denzil L. Douglas has labelled the Timothy Harris-led Team Unity overhaul of the Public accounts Committee (PAC) as "a sham, a fraud and it's fake."
"It is consistent with the overall policy of this Government to suppress information and keep the public uninformed. What Deception! What massive fraud committed to the trusting people of St. Kitts and Nevis," said Dr. Douglas during debate on the 2019 Budget.
Compare the watered-down local PAC legislation with that of the United Kingdom, Douglas, the former Prime Minister noted that the UK Public Accounts Committee is appointed by the House of Commons to examine "the accounts showing the appropriation of the sums granted by Parliament to meet the public expenditure, and of such other accounts laid before Parliament as the Committee may think fit."
He further noted "the reach of the committee has spread beyond government departments to also examine public bodies and private companies providing public services" and the UK PAC takes account of representations from interest group and the general public in relation to issues of public spending that falls within its remit.
"In our Public Accounts Committee Act, the PAC can only examine the report of the Director of Audit. So that if, for example, the public is concerned about the cost of building a security hut at the home of the Prime Minister or install a two-chamber Cash Money Vault at the home of the Prime Minister, it cannot look until it appears in the Director of Audit report," pointed out Dr. Douglas.
"Moreover, if it does not appear in the Director of Audit Report it cannot be looked into by the Public Accounts Committee, which is a sub-committee of Parliament. This cannot make sense," Dr. Douglas told Parliament.
Dr. Douglas further noted that in the UK PAC, there are no unreasonable restrictions on the ability of the PAC to call witnesses.
"They can even call witnesses from the private sector if they were party to Government transactions and contracts, and question them about such transactions and contracts. In our Act, only Government officials can be summoned so that a private individual, who has collaborated with a Government official to defraud the Government, cannot be called as a witness before the PAC in our country. And with the vindictiveness, spite and victimisation practices of this Prime Minister (Harris) and government, which public servant will want to lose his job at the hands of a narcissistic leader?" asked Dr. Douglas.
He promised that a new Labour Government will restore the integrity of the Public Accounts Committee.
"It will ensure that its scope and reach are not confined to the Director of Audit Report as proscribed by the inappropriate Act passed by this Parliament. Its scope will be expanded beyond the scope of government departments as done by the UK Public Accounts Committee," Dr. Douglas.