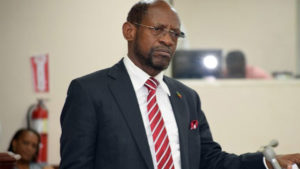 Opposition Leader Dr. Denzil Douglas continues to question where the government is getting the money from to support its initiative of paying gang members for work.
The government has repeatedly denied handing out cash to gang members for them to keep the peace and end the gun violence that was plaguing the federation, saying recently that those involved in a peace treaty are being paid only for legitimate work done.
Dr. Douglas, leader of the St. Kitts and Nevis Labour Party, is alleging the National Security initiative is in fact an illicit undertaking.
"There is not information that is being shared to the public with regard the payment that is being given to these gang members. They are saying that initially they did not initiate any kind of payment, this payment thing was initiated only after they had come together in a peaceful exercise to demonstrate that they wanted to end the violence among themselves.
This money thing I believe therefore is one way of the government laundering money from wherever it is getting it and I want the gang members to understand that they must not allow the Harris brothers to use them in this way. For example, they told me just on the weekend, large sums of money are being brought to them in cash. Well where is the cash coming from? I'm told that every week about 1 million dollars is being spent in this program. Cash being collected it would appear from the Development Bank, taken to the gang members around the island- hard cash."
According to the former Prime Minister if the men are being paid approved jobs, are their salaries subject to Social Security tax deductions like ordinary employees.
Citing a multimillion dollar tab for the gang initiative, Dr. Douglas challenged the sustainability of the scheme, claiming the gang members are earning more than the average minimum wage worker; a situation he says is causing some contention among the working public.
"I want to ask the gang members not to tallow the Harris brothers to use them for political reasons. The work that they say they are giving them, is it sustainable work? And the confusion that is already arising; they're cutting down grass and trees. Well what about those who are in the Parks and Beaches Unit? Are they getting the same $1800 the gang members are getting? I understand those at Parks and Beaches are still getting $360 per week. This is the confusion that is arising."