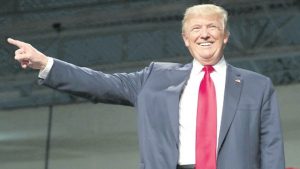 Donald Trump has used an appearance at a campaign rally in Minnesota to brag about his money and intelligence, asking why he is not considered among the "elite" despite his property portfolio.
"They always call the other side 'the elite'. Why are they elite? I have a much better apartment than they do," the US president said.
"I'm smarter than they are. I'm richer than they are. I became president and they didn't. And I'm representing the greatest, smartest, most loyal best people [sic] on Earth – the deplorables, remember that?"
Lloyd Croskey, a retired Seattle Times printer, responded to the remarks by tweeting: "You can't buy class. Money has nothing to do with class."
Conservative Washington Post blogger Jennifer Rubin said in a Twitter post: "Well, they have better taste, are more attractive and interesting. They read books so they don't sound moronic. And many of them have much more money than he."
CBS politics reporter Katie Watson said: "This was a rather odd moment. The crowd cheered his accomplishments and status. Trump almost sounded like he, too, wanted to be called elite, or more elite? He didn't clarify any of this, just sort of let it hang in the air, and moved on."
Mr Trump's appearance in Minnesota came just hours after he signed an executive order ending a US policy of separating children from their parents at the Mexico border.
But during the rally, the US President repeated threats to slash aid to countries whose citizens were caught crossing the border illegally.