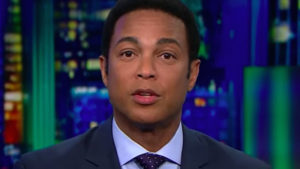 CNN anchor Don Lemon said it was important to stop demonizing individual groups over terrorism concerns, before immediately saying the real threat was from "white men."
"We have to stop demonizing people and realize the biggest terror threat in this country is white men, most of them radicalized to the right, and we have to start doing something about them," said Lemon during an appearance on "Cuomo Primetime" Tuesday evening. "There is no travel ban on them … they had the Muslim ban. There is no 'white guy ban.' So what do we do about that?"
CNN anchor Don Lemon said it was important to stop demonizing individual groups over terrorism concerns, before immediately saying the real threat was from "white men."
"We have to stop demonizing people and realize the biggest terror threat in this country is white men, most of them radicalized to the right, and we have to start doing something about them," said Lemon during an appearance on "Cuomo Primetime" Tuesday evening. "There is no travel ban on them … they had the Muslim ban. There is no 'white guy ban.' So what do we do about that?"
Lemon did not cite any specifics or data and went unchallenged by Cuomo. A rep for CNN did not immediately respond to request for comment from TheWrap.
It's the second time this month that Lemon has delved into divisive racial rhetoric. On Oct. 9, a panel on his CNN program ripped into Kanye West for his support of Donald Trump.
"He's an attention whore, like the president. He's all of a sudden now the model spokesperson. He's the token negro of the Trump administration," said CNN contributor Tara Setmeyer as Lemon laughed along.
"Kanye West is what happens when negroes don't read," former Congressman Bakari Sellers added. "And we have this now and now Donald Trump is going to use it and pervert and he's going to have someone who can stand with him and take pictures."
Lemon — to the extent that he did comment on the remarks on-air — limited himself to noting how uncomfortable the only white panelist, CNN contributor Scott Jennings, seemed to appear.
CNN also did not respond to multiple requests for comment at the time about the "token negro" incident and the moment did not make it into Brian Stelter's CNN media newsletter.