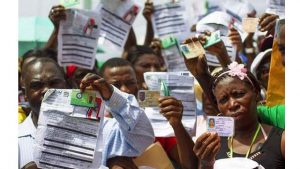 SANTO DOMINGO, Dominican Republic (CMC) — Several people demonstrated in front of the Immigration headquarters in Dominican Republic on Thursday as they called for the immediate deportation of close to four million undocumented Haitians.
The protesters, led by the Nationalist Coordinating Table headed by Robert Cabral said the plan to regularise foreigners has failed.
According to Cabral, clubs, churches and local NGOs have been sheltering some of the foreigners, which he affirms is against the law.
"The Dominican Republic is a sovereign country and we have the right to establish our immigration policies."
Meanwhile, the authorities are reporting that in the past 12 hours Immigration inspectors and Border Security guards have returned more than 400 undocumented Haitian migrants through the country's southernmost border crossing.
The police reported that early Thursday, the authorities seized crates of beer, cigarettes, whiskey, energy drinks, shovels, machetes, rice and other products from Haiti.
Authorities also confiscated 19 motorcycles owned by Dominicans, who are accused of transporting undocumented Haitians to different parts of the country.
The officials continue the sweep in various neighbourhoods, reportedly home to more than 280 families of illegal aliens.
Thousands of foreigners, including Haitians are facing deportation as the deadline for them to legalise their immigration status is scheduled to expire on July 17.
Meanwhile, Haiti's ambassador to the Dominican Republic Idalbert Pierre-Jean on Thursday said he recognises Dominican Republic's total sovereignty to enforce the immigration rules it deems appropriate to safeguard its borders.
"Obviously, in the immigration laws of a country there is total sovereignty. Normally we have to respect what the authorities order, the Dominican authorities have the right to deport all illegal people who find themselves in the street without papers."
He said however that the Haitian diplomatic mission needs to be vigilant so that the civil rights of their nationals are respected.
"The only thing we can do is ask for respect for the civil rights of immigrants," Pierre-Jean said during a press conference .
The Haitians, and others, who have been living undocumented in the country, are registered under the National Plan to Regularize Foreigners (PNRE).
The PNRE is a special provision to grant identity documents and residence permits to foreign nationals who have not been living legally in the country.
Of the 238,000 Haitian foreigners who opted to regularisation, in the last deadline issued on 2015, the card of 143,000 expires July 17.
However, only 53,000 Haitian nationals registered for the PNRE were registered with the Central Electoral Board (JCE), but of those, only 15,000 have been identified by the electoral board.
In May, the Dominican Directorate General for Migration (DGM) reported that citizens from 12 countries were repatriated to their country of origin.
According to the agency , the repatriated foreigners, who were living here illegally, came mainly from Haiti but also from Armenia, Canada, China, Colombia, Spain, Greece, India, Italy, Panama, Peru and Venezuela.