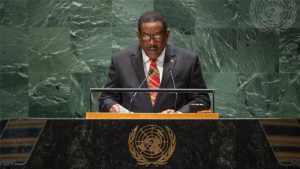 Dominica has called on world leaders to do more to assist the people of Haiti.
Dominican President Charles Savarin told world leaders gathered in New York for the 78th session of the UN General Assembly that Haitians deserve the same level of international care and support that is being given to the Ukrainians after Russia invaded the country last year.
Savarin highlighted that since the devastating earthquake of 2010, which claimed over 222,000 lives, there has not been a comprehensive assessment of damage nor has the World Bank estimated the cost of reconstruction.
"If ever there was a cause deserving the full attention of the international community that cause is Haiti," he said.
Savarin highlighted that Haiti's Caribbean Community (CARICOM) neighbours have been doing their part to assist the French-speaking island in finding solutions to some of the problems it now faces such as gang violence and political instability.
But, the outgoing head of state noted CARICOM countries can only do so much given their limited resources.
He said finding a solution to the problems in Haiti will require the international community to work together with Haitians to build local capacity and strengthen institutions.
"The Commonwealth of Dominica is of the view, that a strategy which addresses the root causes of instability in Haiti will be embraced by the people of Haiti. We also underscore that such an approach cannot be pursued without the unwavering support of the international community," he stated.
Dominica has called on the UN Security Council to approve efforts to help Haiti in key priority areas including security, governance, education, health and long-term development planning.