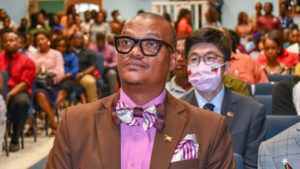 The Federal Parliament of St. Kitts and Nevis gave its support to the Rastafari Rights Recognition Bill, 2023, and the Freedom of Conscience (Cannabis) Bill, 2023, on Tuesday, June 20, as the draft legislation moved through the House for their second and third readings thereby being passed unopposed.
The Bills were successfully piloted by the Honourable Dr. Geoffrey Hanley, Deputy Prime Minister and Minister responsible for Ecclesiastical and Faith-based Affairs.
The Rastafari Rights Recognition Bill, 2023, provides for the process of registration of Rastafari groups, recognition of various rights related to the use of cannabis by registered Rastafari groups, licensing for freedom and conscious procession, and use of cannabis in certain public places and for other related matters.
Dr. Hanley pointed out that the Bill does not provide for the registration of individuals but rather the registration of groups.
"As is the case with other denominations, once they seek recognition as a group, registration, licensing, and legal recognition, are required. This is the principle and practice that is being applied to the Rastafarians," said Dr. Hanley, adding that similar registration practices are required for other faith-based institutions.
A key point included in the draft legislation states that persons must be over the age of 18 years to have this right. "As a nation, we maintain that cannabis is not suitable to be consumed in any form by children under the age of 18 years," the deputy prime minister expressed.
In relation to the Freedom of Conscience (Cannabis) Bill, 2023, provisions are made that facilitate the personal cultivation by adults of cannabis for private use in a secured area within a private residence and the personal possession and use of cannabis in certain public places within designated smoking areas for the enjoyment of a person's freedom of conscience including freedom of thought, and of religion and for related matters.
"From this day forward, the men and women of our society that call themselves Rasta and subscribe to the Rastafari way of life will have their constitutional rights recognized and it will be part of our law forever Madame Speaker," said Honourable Dr. Hanley, noting that this is a proud moment for him as the Minister of Ecclesiastical and Faith-based affairs to lead the debate.
Significantly, Dr. Hanley apologized to the Rastafarian community for what he termed as the "oppression and religious persecution" they have faced over the years.
"Apologies without actions are of no use to anyone. Our action today, in moving for a safe passage of this Bill, Madame Speaker, is one of the many steps this government plans to take to make things right for our Rasta brothers and sisters, elders and empresses," he added, indicating that the Rasta community will be free to practice their religion in safe, designated areas and can smoke cannabis as their sacrament within their private homes, in designated public spaces and their places of worship provided that it meets all legal requirements.
Other related Bills passed in the National Assembly were the Smoking (Designated Areas) Bill, 2023, and the Drugs (Prevention and Abatement of the Misuse and Abuse of Drugs) (Amendment) Bill, 2023.