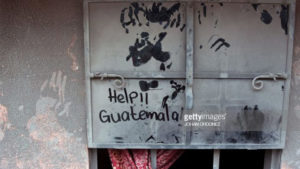 The death toll from Sunday's powerful earthquake in Guatemala has climbed past 100.
As of late yesterday, officials said the death toll was put at 109, according to the Central American country's disaster and forensic agency.
Rescuers were still searching for survivors from the eruption of the Fuego volcano in Guatemala City with 200 still reported missing.
Hundreds of rescue workers, including firefighters, police and the military, were battling adverse conditions to search on the rubble of the disaster.
Clouds of smoke poured into the air. It waExperts also warned that heavy rains in the area could trigger avalanches due to the large flows of volcanic mud, which had been hardened by the rainfall, causing a problem for the rescuers to get people out or figure out how many are still buried there.
Emergency workers had to temporarily suspend their search operation late Tuesday after a new eruption triggered a landslide. And explosions boomed from the 3,763-meter volcano Wednesday, unleashing a new flow of dangerous volcanic material.
Sunday's eruption, believed to be the most violent explosion of the Fuego volcano since 1974, has affected more than 1.7 million people, mostly in the southwestern suburbs of Guatemala City.s estimated that the temperature below the surface reached as high as 400 to 700 degrees Celsius, which made rescue work more difficult.