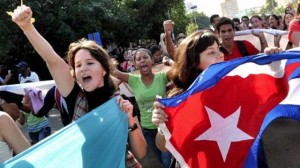 HAVANA (AFP) — Cubans erupted into celebration Wednesday at news of a historic renewal in relations with the United States, voicing hope the breakthrough would change their lives amid economic decay.
In Havana's old town, where overjoyed groups gathered in the street as the news spread, the phrase "historic day" was on many people's lips as the more than 50-year-old Cold War standoff showed signs of ending.
"I have goose bumps all over," said Ernesto Perez, 52, who works at a cafeteria in the capital.
In a sign of the communist island's baby steps toward reform, Perez got the news on his cell phone — devices President Raul Castro legalized shortly after taking power in 2006 during a health crisis for his older brother Fidel, the father of Cuba's 1959 revolution.
But in this country where the government still controls the media, Perez got the announcement from state news portal Cubadebate.
"It's very important news that will change all our lives. I think everything is going to change. A lot of things can change, and for the better," he said.
Many Cubans were at work or school when they got the news that the US had agreed to revive diplomatic ties and ease its five-decade trade embargo — an announcement made simultaneously in Havana and Washington by President Castro and his American counterpart Barack Obama.
The announcement caught many by surprise, despite tentative signs of a thaw in US-Cuban relations recently.
Bank employee Amelia Gutierrez, who is seven months pregnant, said she got a knot in her throat when she realized her baby would grow up in a new era for US-Cuban relations.
"He won't have to live under the atmosphere of tension that has marked the relationship between Cuba and the United States for the past 50 years," said Gutierrez, 28.
"This is great news. It's a historic day. Cuba and the United States are neighboring countries. There's no reason they should get along so poorly," she told AFP.
"Only God knows if things will get better slowly or quickly. But this is a huge first step."
Marlon Torrez, a 16-year-old student, said he hoped above all that the changes would help Cuba's economy, which despite minor reforms has never been on solid footing since losing the vital support of the Soviet Union.
"This could open a lot of doors, especially in terms of trade between the two countries, which are very close neighbors," said Torrez, one of the 7.7 million people on this island of 11.1 million who have lived their whole lives under the US embargo.
Many Cubans were also overjoyed at the return of three prisoners jailed for more than 15 years in the United States on spying charges.
The three, who have been declared "Heroes of the Republic" by the Havana government for fighting anti-communist Cuban exile groups, were exchanged for American contractor Alan Gross and an unnamed intelligence agent who had been caught working for the US in Cuba and held for two decades.
"It makes me incredibly happy that these three men can reunite with their families in Cuba. It's about time," said Bertha Perez, a 58-year-old librarian at Simon Bolivar House.
Hugo Cansio, a Cuban-American who runs a magazine called On Cuba, said the move was long overdue.
"Some of us have worked very hard for many years to bring about a change in policy between Cuba and the United States," the 50-year-old businessman said in an email to AFP.
"Today is a great day, a historic day, the beginning of a new dream, a new opportunity for all Cubans."
Dissidents crestfallen
However opponents of the Castro regime were crestfallen.
"This was not the right time for these measures. They should have waited for a decisive gesture from Havana on human rights," said former political prisoner Jose Daniel Ferrer, the head of the dissident Patriotic Union of Cuba in second city Santiago.
"But the move is already made," he told AFP.
"We must use the openings that will be created under these measures."
Dissident blogger Yoani Sanchez said the announcement meant that "Castro-ism has won."
"Now we can look forward to long weeks of cheers and slogans in which the Cuban government proclaims itself the victor in its final battle," she wrote.