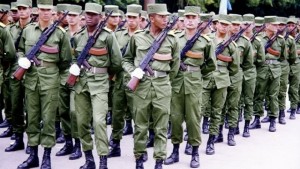 HAVANA, Cuba, Tuesday October 20, 2015 – Cuba has denied reports that its military personnel have been deployed to Syria in support of President Bashar al-Assad.
In a terse statement, the Cuban foreign ministry said over the weekend that it "categorically denies and refutes the irresponsible and unfounded information regarding the supposed presence of Cuban troops in the Syrian Arab Republic."
It did not deny its alliance with Assad, who is last known to have visited Cuba in 2010.
According to Breitbart News, at least three reports surfaced last week linking the Cuban military to Syria. The University of Miami released the initial report, which alleged that Cuban Armed Forces head General Leopoldo Cintra Frias had visited Damascus to strategize with Syrian, Russian, and Iranian generals.
Fox News subsequently released a separate report citing a US official that claimed Cuban troops were en route to Syria to help Syrian troops handle Russian-made armed vehicles, with which they had no experience.
Other reports speculated on the number of Cuban troops – as many as 300, Breitbart said.
Several prominent Americans have also questioned Cuba's alleged presence in Syria, including Senator Chuck Grassley, who sent a letter to the White House demanding an explanation for the situation in Syria.
"You've called on Congress to take further actions to engage Cuba and normalize relations," he wrote to President Obama. "However, just months after your 'historic step forward' the regime of Raul Castro has essentially thumbed its nose at the US by aligning with Russia, Iran and Assad in combating rebel fighters backed by the United States."
Cuban President Raul Castro has made no secret of his opposition to Western involvement in Syria, blaming it for the waves of refugees fleeing that nation to primarily European countries.
In a speech he delivered at the UN General Assembly on September 28, Castro defended Russian leader Vladimir Putin, and blamed Western industrialized nations for what he described as their colonialism mind-set, destabilizing the Middle East, and for the Syrian refugee crisis.
Castro insisted that the European Union was obligated to take the refugees and "take full and immediate responsibility for the human crisis it helped to generate."
Meanwhile, White House spokesman Josh Earnest has said the US government has no evidence to support reports of Cuba's presence in Syria.
Earnest did note, however, that it was "likely" Russia would be attempting to involve allies in their campaign for Assad in the Middle Eastern nation.
Cuba sent troops to Africa in support of leftist governments in Angola and Ethiopia in the 1970s and 1980s, with the intervention in Angola alone reportedly leading to the deaths of 10,000 Cubans. The communist Caribbean country is said to have long since disengaged from overseas military ventures.
In recent times, Cuba has been associated with the deployment of medical professionals to emergencies overseas. It was one of the first countries to send trained personnel to West Africa in the early days of the Ebola epidemic.
In the past year it has reached detente with the United States, restoring diplomatic ties with its former Cold War foe after a break of 54 years.