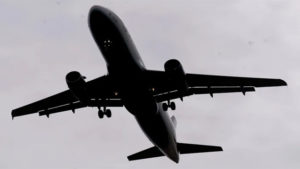 MOSCOW (AP) — Hundreds of people on Sunday stormed into the main airport in Russia's Dagestan region and onto the landing field to protest the arrival of an airliner from Tel Aviv, Israel, Russian news agencies and social media reported.
Authorities closed the airport in Makhachkala, the capital of the predominantly Muslim region, and police converged on the facility. There were no immediate reports of injuries or arrests.
Russian news reports said people in the crowd were shouting antisemitic slogans and tried to storm the airliner belonging to Russian carrier Red Wings.
Video on social media showed some in the crowd on the landing field waving Palestinian flags, protesters attempting to overturn a police car and others checking the passports of passengers who had arrived in Makhachkala.
In a statement released Sunday night, Prime Minister Benjamin Netanyahu's office said Israel "expects the Russian law enforcement authorities to protect the safety of all Israeli citizens and Jews wherever they may be and to act resolutely against the rioters and against the wild incitement directed against Jews and Israelis." Netanyahu's office added that the Israeli ambassador to Russia was working with Russia to keep Israelis and Jews safe.
The Ministry of Internal Affairs for Russia's North Caucasian Federal District, where Dagestan is located, stated that CCTV footage would be used to establish the identities of those who stormed the airport, and that those involved would be brought to justice.
While voicing support for Gaza, the regional Dagestani government appealed to citizens to remain calm and not take part in such protests.
"We urge residents of the republic to treat the current situation in the world with understanding. Federal authorities and international organizations are making every effort to bring about a ceasefire against Gaza civilians … we urge residents of the republic not to succumb to the provocations of destructive groups and not to create panic in society," the Dagestani government wrote on Telegram.
The Supreme Mufti of Dagestan, Sheikh Akhmad Afandi, called on residents to stop the unrest at the airport.
"You are mistaken. This issue cannot be resolved in this way. We understand and perceive your indignation very painfully. … We will solve this issue differently. Not with rallies, but appropriately. Maximum patience and calm for you," he said in a video published to Telegram.