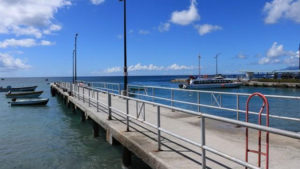 The Opposition Nevis Reformation Party says Premier Mark Brantley was being deceptive when he announced last week that repair work on one of the piers at Charlestown waterfront would have commenced on November 1.
NRP Candidate Dr. Kelvin Daly was a guest on Freedom FMs Issue talk show on Tuesday and said up until that point, no work had started on the damaged pier.
"I'm not one to take what the Premier says lightly because he's a consummate liar, as a matter of fact he's a pathological liar, and when you hear him pronounce things you have to investigate what he's saying. So November 1 I came to town to see the arrival of the construction team to rebuild the new pier. Nothing happened so I went back home. Next day came back into town, no construction in sight; November 3rd, nothing.
"If you as Premier are going to make a pronouncement at a press conference with full confidence that the construction is going to start on November 1st and kit doesn't start then, it means there was no plan. He didn't say 'we're hoping', he said it would be gin November 1st.
"So I visited the Physical Planning Unit and inquired about this pier that is to be rebuilt and I was told no plan had been submitted them, no engineering drawings, no proposal. Without a plan and proposal you cannot determine the scope of work and you cannot apply a costing. So you're going to make an announcement two or three days before and Physical Planning has not looked or seen a plan? We don't even know, and they don't even know who the contractor is, if they are coming from Japan or St. Kitts or Anguilla. We don't know how much it costs; we know nothing about this project but we are supposed to sit down and take it that everything is right and just and will work out- it doesn't go like that."
Premier Brantley at an Oct 31st press conference had in fact revealed the details of the project, including the cost and contractor. He said that the contract has been signed to the tune of over US$325,000, which was awarded to a St. Kitts company, St. Kitts Marine Works Ltd.
Freedom FM spoke with the owner of that company, Regiwell Francis, who confirmed that the work had begun on schedule but was being done offsite, therefore persons would not see much activity at the waterfront in the initial stages of the project. He explained that because it's tourist season they opted not to demolish the damaged section of the pier and have the area look unsightly, but instead to do the pre-casting work over the next 3-4 weeks and then start the physical work at the pier. The project is expected to be completed by the end of December 2019.